He will never let go your hands
Jesus will never let go your hands
Though the storms may come
And the winds may blow
He will never let go your hand
Certainty means that you know for sure' the next course of action. Uncertainty means just the opposite. You are not sure of the next course of action. You do not know what to do. As your heart ponders over the uncertainty, then you tend to consider the odds for and against you. As you think about the consequences a sudden fear grips you. The thought remains in your mind and gets you tensed up.
Trust ye in the LORD for ever: for in the LORD JEHOVAH is everlasting strength  Is 26:4
Your ride away from 'faith in God' has already begun. This breaking away in your mind can be instantaneous and you loose all sound judgment. Before the roller coaster ride begins, you must right now.
Thank Him for the certainties
And Trust Him for the uncertainties.
Uncertainty is your opportunity to Trust in God.
Uncertainty is your opportunity to turn to God.
Uncertainty is His call to you.
What would you choose today?
Trust in Him, Turn to Him and Obey His call.
Prayer: Loving Heavenly Father, Today no matter how bleak or uncertain things may look in my life I choose to trust in you and your love for me. I believe and confess with my mouth that my future is in your hands. Each passing day, grant me the grace to keep my eyes fixed upon you and believe in your Word, and not what the circumstances around me say. All because I ask in Jesus name. Praise the Lord.
The Bible says in Isaiah 26:3 – Thou wilt keep him in perfect peace, whose mind is stayed on thee: because he trusteth in thee.
Further Reading : Trusting in God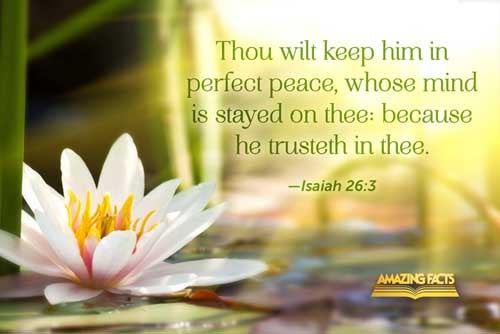 THE BIBLE: Read it everyday. It records all the victories that God has given you as a believer. Read it passionately to know your new position and inheritance in Christ.