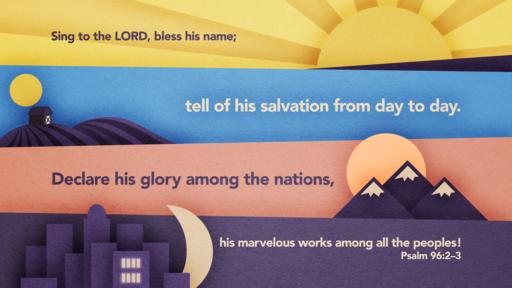 THE ORIGINS: Inspired by the scripture, Psalms 96:2,3
Sing to the Lord, bless his name;
 tell of his salvation from day to day.
Declare his glory among the nations,
 his marvelous works among all the peoples!
To proclaim the GOOD NEWS of His Salvation FROM DAY TO DAY.  This is the origin of these mailers.  FROM DAY TO DAY is a collection of letters which emphasise the goodness of God, His unchanging love, His great Salvation and which declares His glory among the nations and His wonders among the peoples.  These were primarily intended to encourage and strengthen new believers and circulated among family circles and friends, but is now being put up on the World Wide Web for the benefit and blessing of any one surfing by  and looking for such content.  If these have blessed you drop in a line and Praise His name.
Some of the pages have links to music files.  As you read the letters please listen to these songs of praise and worship which will stir up your faith and you soul and rekindle a new passion for you First Love.  Spend some time on these pages and you would never regret and would come back for more.  But always remember never loose your hope in Christ, through your hope in Christ, you can climb up and once again move up again.
And now as we see the day approaching with signs of the times, as the Lord said, so you will find many more letters emphasising the soon coming of our Lord Jesus Christ.  What does it mean to us, what should we do , and how should we prepare in these Last days. 
If you are in this page and have a heart for INDIA, visit the Pray for India page and Pray for India.                                                                                  
                                                                                  JM